Not that Philly has room to talk,<br><br>"We live in a nation that has always given broad leeway to law enforcement, and I have no doubt that many people reading this — perhaps the majority — will insist that the overzealous police response was nonetheless necessitated by the handful of folks among the crowd who did, most regrettably, commit acts or vandalism or violence. But that attitude overlooks the bigger and most alarming reality of what actually has been happening in St. Louis: A police force determined to go well beyond its public-safety responsibilities to assert an intimidating level of social control, to show who runs public spaces in "their" city — them, and not its citizens — while crushing any dissent targeting its own sordid history of misconduct, including a record of white officers killing black civilians at a rate unmatched by other large cities."
Not that Philly has room to talk,<br><br>"We live in a nation that has always given broad leeway to law enforcement, and I have no doubt that many people reading this — perhaps the majority — will insist that the overzealous police response was nonetheless necessitated by the handful of folks among the crowd who did, most regrettably, commit acts or vandalism or violence. But that attitude overlooks the bigger and most alarming reality of what actually has been happening in St. Louis: A police force determined to go well beyond its public-safety responsibilities to assert an intimidating level of social control, to show who runs public spaces in "their" city — them, and not its citizens — while crushing any dissent targeting its own sordid history of misconduct, including a record of white officers killing black civilians at a rate unmatched by other large cities."
---
Not that Philly has room to talk,
"We live in a nation that has always given broad leeway to law enforcement, and I have no doubt that many people reading this — perhaps the majority — will insist that the overzealous police response was nonetheless necessitated by the handful of folks among the crowd who did, most regrettably, commit acts or vandalism or violence. But that attitude overlooks the bigger and most alarming reality of what actually has been happening in St. Louis: A police force determined to go well beyond its public-safety responsibilities to assert an intimidating level of social control, to show who runs public spaces in "their" city — them, and not its citizens — while crushing any dissent targeting its own sordid history of misconduct, including a record of white officers killing black civilians at a rate unmatched by other large cities."
America, we need to talk about this 'police riot' in a major U.S. city | Will Bunch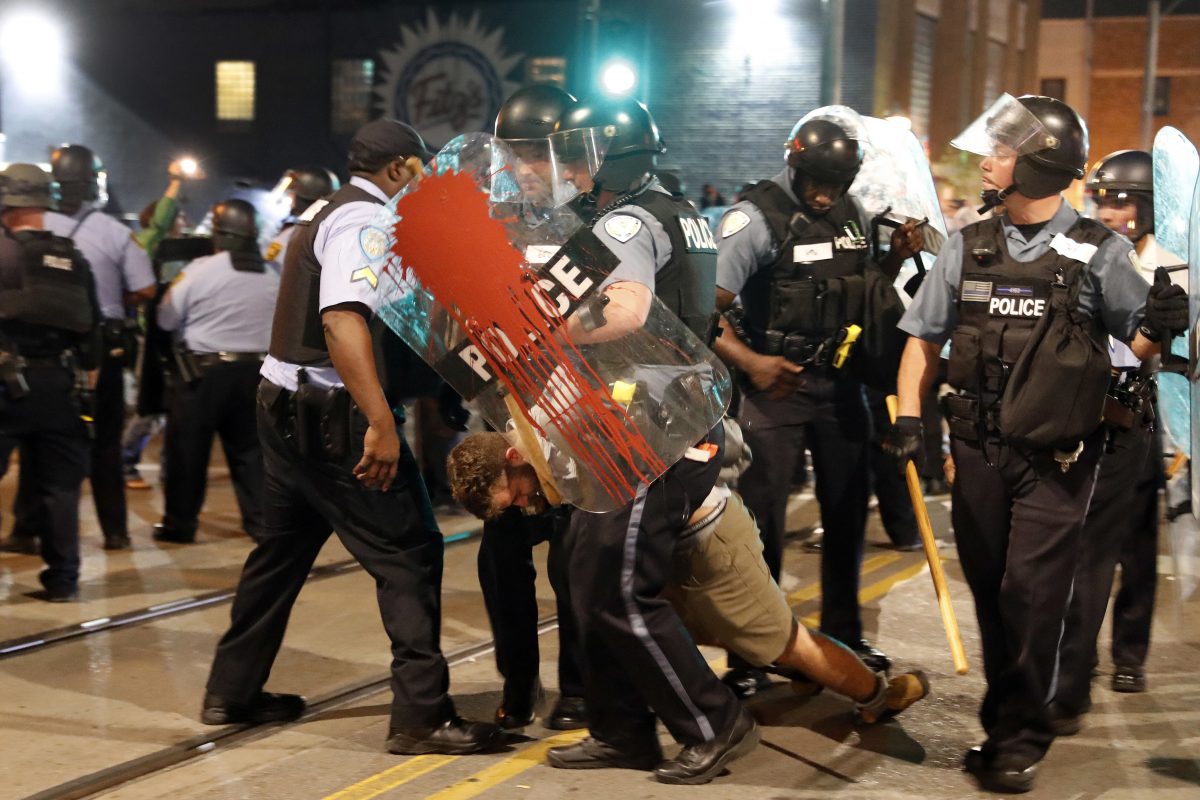 Militarized cops chanting that they "own" the streets of St. Louis is one more alarming step toward a police-state regime in Donald Trump's America.
---