Josh today,<br><br>"Williams passed most of his time in solitary talking to himself and reading (The Grave Tattoo, by Val McDermid, a thriller, was his favorite). He wasn't allowed to wear clothes, just boxers. He said he felt dehumanized, but managed to keep himself feeling sane throughout. Extended periods of solitary confinement have been shown to cause rapid deteriorations in people's emotional states. "I try to keep myself from going into that state of mind," he said. "I know I'm strong enough to do this."<br><br>"I'm in this dark place right now," he said. "And I know God is there with me, and he'll get me through."<br><br>But even when he's out of solitary, Williams lives in fear of reprisals from guards. He said they'll write him up for anything, even having one section of his shirt untucked.<br><br>He's also at risk because other prisoners know his story, and know he has support from activists on the outside. They see him as a target, and extort him for money from his commissary fund. But Williams knows prisoners who are supporters of him too, and they protect him for now, he said."
Josh today,<br><br>"Williams passed most of his time in solitary talking to himself and reading (The Grave Tattoo, by Val McDermid, a thriller, was his favorite). He wasn't allowed to wear clothes, just boxers. He said he felt dehumanized, but managed to keep himself feeling sane throughout. Extended periods of solitary confinement have been shown to cause rapid deteriorations in people's emotional states. "I try to keep myself from going into that state of mind," he said. "I know I'm strong enough to do this."<br><br>"I'm in this dark place right now," he said. "And I know God is there with me, and he'll get me through."<br><br>But even when he's out of solitary, Williams lives in fear of reprisals from guards. He said they'll write him up for anything, even having one section of his shirt untucked.<br><br>He's also at risk because other prisoners know his story, and know he has support from activists on the outside. They see him as a target, and extort him for money from his commissary fund. But Williams knows prisoners who are supporters of him too, and they protect him for now, he said."
---
Josh today,
"Williams passed most of his time in solitary talking to himself and reading (The Grave Tattoo, by Val McDermid, a thriller, was his favorite). He wasn't allowed to wear clothes, just boxers. He said he felt dehumanized, but managed to keep himself feeling sane throughout. Extended periods of solitary confinement have been shown to cause rapid deteriorations in people's emotional states. "I try to keep myself from going into that state of mind," he said. "I know I'm strong enough to do this."
"I'm in this dark place right now," he said. "And I know God is there with me, and he'll get me through."
But even when he's out of solitary, Williams lives in fear of reprisals from guards. He said they'll write him up for anything, even having one section of his shirt untucked.
He's also at risk because other prisoners know his story, and know he has support from activists on the outside. They see him as a target, and extort him for money from his commissary fund. But Williams knows prisoners who are supporters of him too, and they protect him for now, he said."
Three Years After Ferguson, One Protester Still Faces the Aftermath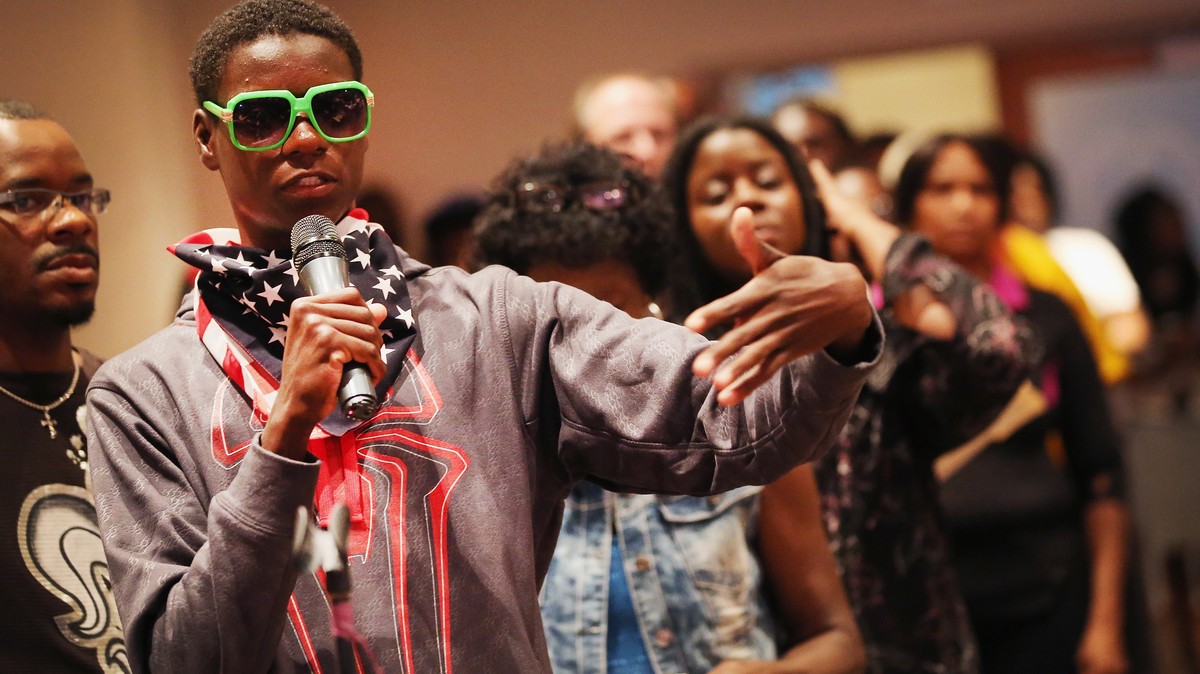 Joshua Williams was made an example of by a St. Louis County judge. Two years into his prison sentence, he said his activist history has led guards to make his life hell.
---